How to delete your Tumblr account permanently 2022
Tumblr is a blogging and social networking platform that enables users to publish "tumblelogs," which are short blog articles, regularly to their followers. Tumblr's primary distinguishing feature is the site's free-form nature, as well as the possibility for users to modify their sites entirely. Back then, Tumblr enjoyed popularity and fame among social media users. Tumblr grew in popularity because of its flexible design, giving users freedom to design their pages. Tumblr has mostly known for its visual content, and there is no maximum word restriction on postings. While the text is still utilized on Tumblr, many users only use it to accompany a picture or a sequence of photos rather than stand-alone. Tumblr users may now publish movies, audio files, and various other sorts of material in addition to photographs.
However, every benefit has an equal and opposite downside. Tumblr is not an exception. Indeed, Tumblr has lost its fame and popularity as many people find options, and you shouldn't be left behind. Check this article to know how to delete Tumblr account securely.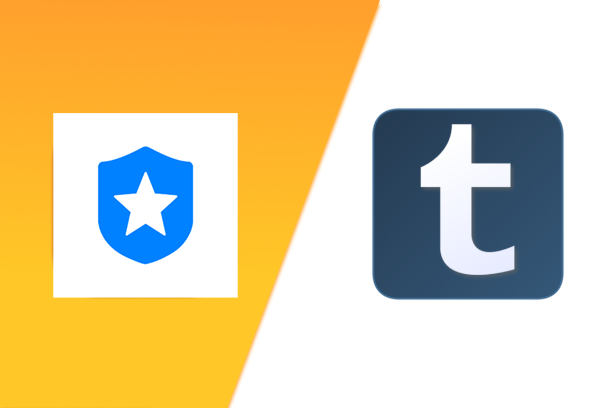 Why you should delete your Tumblr account
Things have changed since then. Content conflicts, privacy violations, and new rivals have all led to its collapse. In 2016, Tumblr announced that cybercriminals had managed to breach it. The hackers stole users' personal information such as addresses and emails, but, indeed, this compromise did not just begin in 2016; we can trace it to 2013. Tumbler users are thus not safe since the hackers can send malware links to their emails with the pretense that it is from the Tumblr site.
As if this was not enough, in 2018, Tumblr revealed that they had corrected an issue that could have exposed users' usernames and passwords, as well as their specific IP addresses, once more. Specifically, a flaw occurred in the 'Recommend Blogs' function of the desktop version of the program. If a blog appeared in this module, debugging hackers could use tools to reveal sensitive account information. Even though Tumblr said that there was no proof that any data had been compromised, the presence of a problem of this kind is a concerning development.
Last but not least, we arrive at their odd privacy settings. Users must make great efforts to prevent their data from being shared with advertising partners.
The new social networking platforms are more fun than the old ones. It's time to say goodbye to Tumblr and erase your account. This post will walk you through the process of permanently deleting your Tumblr account.
Follow these simple steps to delete Tumblr account
You will not erase your Tumblr account via the application completely. To complete the process, you must use a web browser and follow these simple steps:
Log in to your Tumblr account if you haven't already. You will need to input the code delivered to your mobile device if you have enabled two-factor authentication (TFA).
Choose 'Settings' from the 'Account' drop-down menu.
At the bottom of the page, click the 'Delete Account' button.
Whether or not you're confident will be brought up. Confirmation is as simple as clicking 'Delete Everything.'. To complete the sign-in process, TFA users should re-enter their email address and their mobile authentication code.
The site will inform you of Tumblr's Terms of Service and Privacy Policy, which outlines how Tumblr's partners and merchants use cookies to provide you with the best experience possible. Click on the 'Accept' button if you're ready to proceed.
Your Tumblr account has been erased, including any linked blogs and data.
If you delete your Tumblr account, you will lose access to all of your blogs, including your primary and secondary blogs. Once your Tumblr account has been erased from other social networking sites, it is not feasible to recover it on Tumblr itself. You will not recover your account if you have deleted it accidentally. So take your time before deciding to proceed.
Other Ways of Keeping Your Data Private
One of the basic resolutions every internet user dreams of is safe Internet and privacy. Do you want your online surfing to be secure? No worries, we are here to advise. Enhance your online security and privacy by using a variety of security and privacy precautions. One such method is to use a mobile phone case to safeguard your device. The quantity of information that hackers may steal from a mobile phone, on the other hand, is astonishing.
Fortunately, many VPN companies now provide smartphone compatibility, including iPhone and Android smartphones support. By installing a VPN on your phone, you will be able to safeguard and encrypt the data on your phone via the use of a secure web connection, regardless of where you are.
When choosing the VPN you will use to protect your privacy, do not just choose any network. There are several factors to consider before selecting a VPN network; these factors include VPN speed and encryption quality. We highly recommend using Aman VPN since it has better VPN speed and offers you 100% privacy.
Tumblr Alternatives You Should Know
After doing away with Tumblr, I know you want better alternatives that will be secure and efficient. Many blogging platforms are available, and finding a new home for your material might be intimidating.
Reddit
Reddit provides users with aggregated content you cannot miss. At this moment, what is making the rounds on the Internet? Go to the homepage and sort by all of the options. Content visibility is determined by the amount of interaction and up-votes received on a post.
Secondly, Reddit allows you to carry out your blogging anonymously. Create an online avatar so that you may participate in discussions on Reddit subreddits without disclosing your true identity. Keep in mind to construct a username with an alternative pseudonym distinct from your real name, place of residence, or location.
Medium
Amateurs and experts alike may share their perspectives with a global audience with the online publishing platform. Medium's goal is to keep things as simple as possible. A clutter-free basic editor makes content creation and publication a breeze.
Like Tumblr, the user's newsfeed is personalized according to the user's material read, clapped, and interacted with. It's not part of the reader's subscription subjects.
Pinterest
A core feature of Pinterest is the notion of "pinning" photos and videos that you like to a collection of pinboards. As of 2019, it has about 300 million monthly active users, making it a massive audience for any social media campaign.
Twitter
Tumblr's vertical home news feed is like Twitter's. With the retweet option, individuals may share posts with their followers. Checking for hashtags in the home feed will bring up posts from other users, accounts you follow, and global tweets. Any material is permitted on the microblogging website if it complies with local regulations. Twitter is controlled in Saudi Arabia due to the prevalence of NSFW material on the Internet.
Quora
A website where people may ask and answer questions is called Quora. Users may upvote questions and answers that they think are relevant, and the most popular responses are shown at the top of the page. Responding to customer questions about your product or service allows you to establish yourself as an industry expert and increase your brand recognition. Instead of relying on flashy advertisements, focus on providing excellent solutions.
Conclusion
Many of us indeed like social media. It has become part of our daily lives marketing our business or simply interacting with friends. However, no one would love to expose their sensitive data to criminals, as was the case in 2016 with Tumblr. It would help if you were careful to ensure that your online activity is encrypted.
For those on social media who are still on the fence about whether it's worth it to pay a few dollars a month for the best security, we hope this article has persuaded you that it is. Social media management is all about getting things out there, but that doesn't mean privacy and encryption aren't necessary, mainly when you're playing a different persona. That may imply keeping up with the competition or assuming an identity distinct from one's actual locale. Consider giving it a go; it might be the most significant advancement in social media management since the advent of scheduled postings!
Aman VPN is a friendly VPN that will get all you need from social media at a lower price. Get Aman VPN in these simple steps.
Visit https://Amanvpn.com/ to download and install the Aman VPN application.
Connect to your favorite server.
Enjoy your internet safety.
More Channels
Convenient entrance